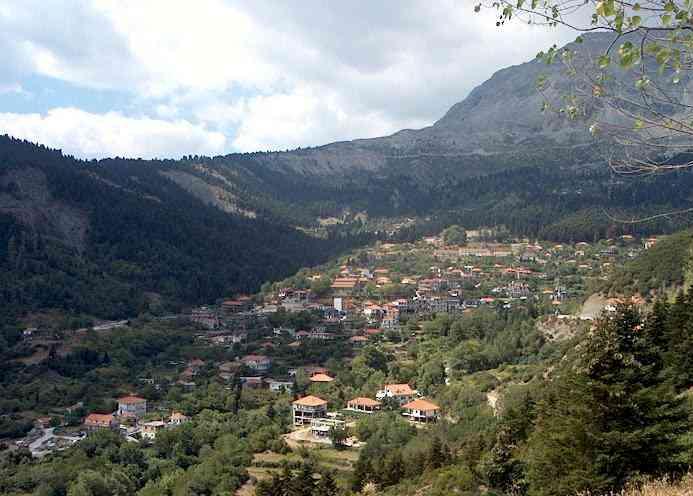 Information
Vourgareli
Vourgareli is one of the biggest villages in the mountain area of Arta, 56 km. from the capital of the county. It is located on the southern side of the Tzoumerka Mountain, between two hills covered with fir trees, east the Profitis Ilias and west the Omali hill, that protect the village, as in a natural breast.
A village particularly favored by the nature, having dominant vegetation with all kinds of green tones, affluent running waters forming two streams at the borders of the village and full of stone houses with tiled roofs, as well as a wide view to the open horizon.
The most likely explanation for the name of the village is that before the area got populated, this very place was covered by a dense wood where worked a woodcutter named Vourgarelis. Thus, those coming from the neighboring villages to find wood looked for Vouglarelis. Note that for about 30 years (1950-1980) the name of the village has been changed to Drossopigi. Georgios Papadimitriou, searcher and teacher, claimed that the first houses were built in the years 1600-1630, while the first inhabitants originated from the surrounding settlements.
In 1881, after the liberation of the Arta region from the Turks, was created the Municipality of Theodoria, with Vourgareli as its seat. In 1912, upon the abolition of the municipalities, the Community of Vourgareli was instituted and then, in 1998, the village became once again the seat of the Municipality of Athamania.
Vourgareli was one of the region's larger villages, with schools, educated inhabitants, public services, and important social and intellectual life. The difficult years of the German Occupation deeply marked our village. The Germans bombarded the village in May 1943 and then burned it in October of the same year, destroying the largest part of the village and killing a lot of people. The inhabitants of Vourgareli rebuilt their houses and managed to get a life. The urban pull of the '60s devitalized our village, along with the Greek countryside. In the recent years, however, efforts are made with encouraging results. Vourgareli became once again a lively village with important development prospects and new activities.